From time to time, we will be posting software updates here that are not quite ready for official release.  If you want the very latest, or are willing to help us test new (BETA) versions of the code prior to general release, just download an update from this page and let us know if you like what you see, or if you spot any issues. It is best to use a spare SD card while testing BETA code. Thanks!
April 3, 2019
Use the links below to download the latest BETA version (1.35) of Centipede operating software.  This version adds the following features:
Added a new BUTTON to signal a script to prompt for operator input(s)

Note: when a SIGNAL is active/pending, the button will change colors

Added a new statement:  IF SIGNAL ACTIVE  ……..  (this new button has been pushed)
Added a new statement:  IF SIGNAL INACTIVE …… (the new button has not been pushed)

Note: these sequencer IF statements will turn off an existing signal
Note: an active signal will interrupt a WAIT function

Added WAIT RESUME to continue waiting for the original time before the signal
Added VAR X INT=Y convert to an integer
Added a new verb 'QUESTION' to get input (number or text) from operator while script is running
Added a new pre-defined variable which contains the last response from the operator to a 'QUESTION' prompt
Updated sequence 'pillory.txt' to demonstrate the new features
The Owner's Manual has been updated to reflect changes up to Version 1.35
January 26th, 2019
Use the links below to download the latest BETA version (1.31) of Centipede operating software.  This version adds the following features:
Adds a feature to display sequence scripts:  Sometimes you want a copy of an existing script to make a change, or just to look it over to understand how it works.  This features makes it easy to transfer a script for cut & paste into a text editor, like the programmers editor.
Adjust Home page menu to reflect upgrades in various devices, esp Apple iPad & iPhone: Apple phones and tablets did not follow industry standards and we needed to create versions of our software to address this.  As of OS 12, this issue has been fixed, so our home page has been adjusted accordingly.
Sequencer: SET 1.1 ON=0.75: This version adds a new feature to the sequencer.  You can now specify a probability to randomly turn outputs on.  This feature can make it easier to create scripts that are more interesting by being less predictable.
Sequencer: add verb "QUESTION" and pre-defined variable: "ANSWER": This version adds a new sequencer feature so that the script can prompt the operator for a number which can be used within the script.  See the sample script:  pillory.txt  for an example.
Outputs: switch output controls between for UP / DOWN buttons and sliders: This is a super cool feature that makes it much easier to make small/precise changes to the outputs.  You can now use the sliders as before, or you can use UP/DOWN buttons to change the values incrementally.  In the example below, slider one (the Min slider) has been changed to UP/Down buttons.  To do this, simply click the value (in this case 1).  The other two outputs remain in the default, slider mode.  Our updated User Manual will have more details about this feature.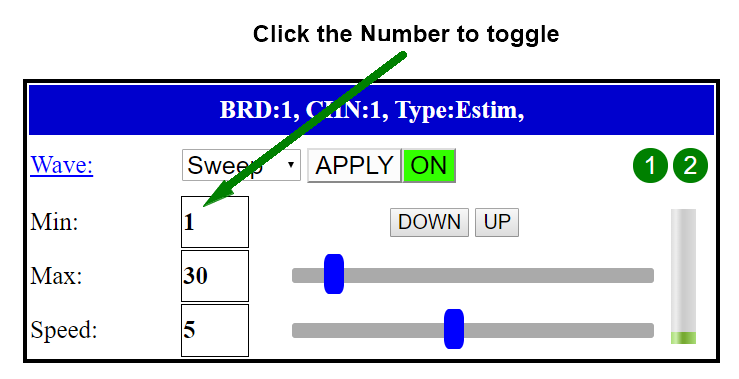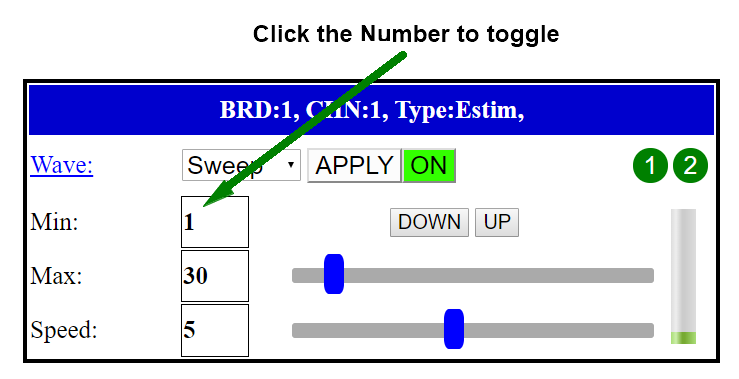 The manuals have not yet been updated to reflect these changes, but shown above are some brief explanations.